Walt Disney Animated Cartoons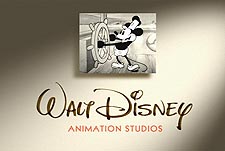 Most of the Disney animated cartoons have achieved classic status in our minds, as part of our childhood and our memories. The classic Disney animated shorts are what brought many of our favorite Disney cartoon characters into our lives. These are the official Disney animated cartoons series from the classic period. You will occasionally see shorts in one series you might expect to see in another-
Don Donald
is surprisingly classified as a
Mickey Mouse
short, even though Mickey does not even appear in the short! Have fun as you look through the many series of shorts produced by The Walt Disney Studios, and find out who the people are who made these great Disney animated cartoons.
Walt Disney Animated Cartoons
This page has been viewed 18 times this month, and 115,549 times total.
Walt Disney Animated Cartoons
Walt Disney Animated Cartoons List: