Contact Us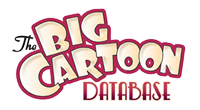 A Little Background First
---
Thank you for contacting The Big Cartoon DataBase. We can't wait to hear from you. We would be happy to respond to inquiries that are within our purview... questions about licensing our data, advertising queries and press inquiries.
For various reasons, there are many questions we CAN NOT respond to. We are not lawyers and will not address legal/copyright/ownership questions; we are not a video store, and cannot address cartoon or video availability questions; we are not a studio or broadcaster and have no say in production or programming.
Any site questions, suggestions or improvement ideas are always welcome! But if you have video submissions, please submit them from the page of the cartoon you are asking about. Similarly, to send us information about a specific cartoon, please submit it from that specific cartoons page. It helps us make the changes quickly and efficiently.
Finally,
PLEASE
do not ask us to help you track down a cartoon or help you figure out what cartoon you are remembering. That is why we built this site, so YOU can figure that out. This is a resource, use it! And if you need some help, post over
on the forum
please....
We do
NOT
answer any trivia questions submitted via e-mail.
Email Form