Disney Silly Symphonies Animated Film Series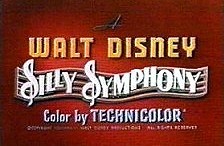 The Disney Silly Symphonies animated film series are more than simply cartoons synchronized to music. From the beginning, this series was looked at as the place to try new things. And try they did- the first color cartoon, the first realistic human form, the multi-plane camera- the "Silly Symphonies" shorts were no platform for the company's famous recurring characters, but instead was all about experimenting with new techniques and styles of animation.
Despite this experimentation, the Disney Silly Symphonies animated film series proved to be very popular with audiences of the time, and soon most of the other animation studios produced a similar series... such as Warner Bros' "
Merrie Melodies
", MGMs' "
Happy Harmonies
" and Fleischers' "
Screen Songs
."
With the release of
Snow White And The Seven Dwarfs
in 1937, this series had about run it's course for the Disney studios, and the series came to an end. But the technology and the techniques pioneered here are still in use today.
Disney Silly Symphonies Animated Film Series
Rate This Theatrical Series:
Disney Silly Symphonies Animated Film Series List: