UPA (United Productions of America) Studio Directory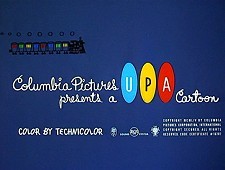 UPA, short for United Productions of America, began as a studio creating political/industrial and World War II training films. After receiving a contract to produce theatrical shorts for Columbia Pictures, UPA stretched it's wings, and became quite influential as it developed it's own unique animation style and technique, and its innovations were recognized and copied by the other major animation studios. UPA pioneered the technique of limited animation as a stylistic alternative to the growing trend of recreating cinematic realism in animated films, not as a cost-cutting and time-saving measure as it later became.
UPA is most remembered for the
Mr. Magoo theatrical
among various theatrical series the studio produced, and the
The Gerald McBoing-Boing Show
for CBS. In the 1960s, UPA produced the
Dick Tracy series
and Mr. Magoo specials. UPA also produced two features,
1001 Arabian Nights
and
Gay Purr-ee
. After the animation studio shut down, UPA distributed Japanese films from
Toho Studios
in the 1970s and 1980s.
UPA
UPA (United Productions of America) Studio Directory Cartoon Series:
UPA (United Productions of America) Studio :