Kitty Film Studio Directory -Japanese: Kiti Firumu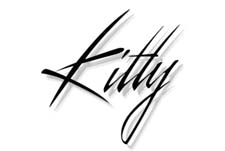 Japanese Studio Title: Kiti Firumu
Kitty was founded in 1972 as Kitty Music Corporation. The company was originally headed by Hidenori Taga, and was a subsidiary Polydor and Universal Music. From the first few years as a music label producing mainly soundtracks, Kitty made the jump to anime in a big way in 1981 with Urusei Yatsura. Their first foray into animation proved so successful that Kitty continued to adapt Takahashi's anime for the rest of their existence.

Highly successful as an umbrella production company for many animation houses, by 1979 Kitty branched out into live action films such as Kagirinaku Toumei ni Chikai Buru (Almost Transparent Blue) and Berusai no Bara (The Rose of Versailles).

The end of Ranma Ż and Yawara! in 1992 marked the begining of a long slide downhill for the studio. Kitty continued producing less high-profile shows such as 1995's Ping Pong Club and Shinkai Densetsu Meremanoid, which ended in 1998. After that, they no longer produced anime for television. Kitty made a few animated OVAs, but their output had dwindled from the highs of the 1980s and early 1990s to almost nothing by the end of the century.
Rate This Studio:
BCDB Rating:
"Kitty Film" has not yet received enough votes to be rated.
Kitty Film Studio Directory Cartoon Series: