Tom and Jerry Kids Show Episode Guide -Hanna-Barbera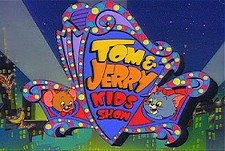 The mute enemies were back on Saturday morning, starring in two seven-minute segments per episode. Apparently, the rivalry between the two had started early, as the youthful Tom and Jerry were up to their old tricks: fighting, chasing, competing, and generally getting on each others nerves. Each episode was jam-packed with action, adventure, and laughs aplenty. The duo are joined by Droopy and his son Dripple, who are private detectives after McWolf. Other characters such as Wild Mouse, Calaboose Cal and Slowpoke Antonio make occasional appearances.
Hanna-Barbera
This page has been viewed 4 times this month, and 9,834 times total.
Tom and Jerry Kids Show Segments:
Droopy

(1990 – 1994, 66 Episodes.)
Tom and Jerry Kids Show TV Episode List :
Tom & Jerry Kids Show (Series) Hanna-Barbera Studios, Hanna-Barbera Productions...

featuring Tom, Jerry, Droopy, Dripple, Spike, Tyke, Miss Vavoom, Clyde, Kyle the Cat; more Characters ...

Tom & Jerry Kids Show (Series) BCDB Rating: (2/5 stars from 24 users.)