Heathcliff and Dingbat Episode Guide -Ruby-Spears Prods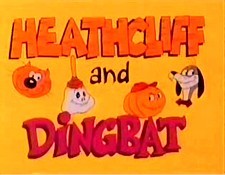 Originally a comic strip created by George Gately in 1973, Heathcliff's TV debut came in the form of the 1980 weekly
Heathcliff and Dingbat
. Here, television audiences were introduced to the pugnacious kitty, his well-meaning owners the Nutmegs, girlfriend Sonja, and father Pops (always in convict stripes, undoubtedly suggesting the origin of Heathcliff's predisposition to fish theft and other petty crime). Everyone worked together in a determined battle against numerous neighborhood adversaries (Spike the bulldog, milkmen, dogcatchers, etc.) Joining Heathcliff in the half hour show were a quirky band of monster pals— Dingbat the vampire dog, Sparerib the skeleton, and Nobody the bodiless pumpkin—who starred in a series of four- and six-minute vignettes. This 13-episode show contained four segments: two "Heathcliff" episodes and two of "Dingbat and the Creeps."
Ruby-Spears Prods
Rate This Cartoon Series:
BCDB Rating:
"Heathcliff and Dingbat" has not yet received enough votes to be rated.
Heathcliff and Dingbat Episode Guide Cartoon Series:
Heathcliff and Dingbat TV Episode Guide :
Heathcliff And Dingbat Ruby-Spears Productions

featuring Heathcliff, Spike, Muggsy, Iggy, Mr. Shultz, Milkman, Clem, Digby, Dogsnatcher, Dingbat, Nobody; more Characters ...

Heathcliff And Dingbat There have not yet been any votes for "Heathcliff And Dingbat". Vote Now! 21