Jem Episode Guide -Marvel Prods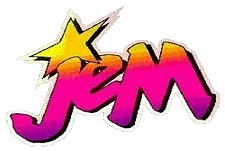 This version of the show consisted of fifteen 6 minute cliff-hanger cartoons.
Super Sunday
featured a rotation of 6 minute versions of
Jem
,
Bigfoot and the Muscle Machines
,
Robotix
, and
Inhumanoids
. Each of three episodes were combined into a full length show, forming
The Beginning
,
Disaster
,
Kimber's Rebellion
,
Frame Up
and
The Battle of the Bands
, the first five episodes of the full series. Inhumanoids lasted only one season while Jem achieved the greater success, eventually running to 65 episodes spanning three seasons.
Jerrica Benton is a young businesswoman who turns into outrageous rock star Jem with the help of her hologram-projecting earrings and computer Synergy. She and her band, The Holograms, come up against competition from the Misfits and the Stingers.
Marvel Prods
Rate This Cartoon Series:
Jem TV Episode Guide :
1 1 1 1 1 1 1 1 1 1 1 1 1 1 1