Adventures of Sonic the Hedgehog Episode Guide -DiC Ent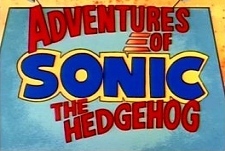 Segaís answer to Nintendoís Mario Bros. was the speedy ball of energy known as Sonic the Hedgehog. The spiky-haired hedgehog caught on in the video game world and, like Mario, made the transition to animated series with ABCís Sonic the Hedgehog and the syndicated The Adventures of Sonic the Hedgehog.
The Adventures of Sonic the Hedgehog
emphasized comedy over the adventure aspects of the
ABC show
. In both series, Sonic battled the red-mustachioed baddie Dr. Robotnik and his army of henchmen, but this version features gags like Sonicís dressing up in disguises any fool could see through and getting away with it.
When the superfast hedgehog got his speed up, he balled up into a buzzsaw-like turbo roll, bowling over his enemies. Sonicís video game partner, Tails the fox, joined up for the animated series as the perpetual sidekick who wanted to be the star.
Jaleel White (TVís Urkel) provided the voice of Sonic in both series, which debuted within a week of each other in the fall of 1993. The syndicated series lasted 65 original episodes, but Sonic and Tails continued their streak of popular video games on Sega's Genesis, Saturn, and Dreamcast systems long after the show left the air.
DiC Ent
Rate This Cartoon Series:
Adventures of Sonic the Hedgehog TV Episode Guide :
1 1 1 1 1 1 1 1 1 1 1 1 1 1 1 1 1 1 1 1 1 1 1 1 1