The Barkleys Episode Guide -DePatie-Freleng Ent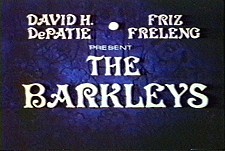 Inspired by the classic 70's sitcom All in the Family, The Barkleys featured a family of dogs led by Arnie Barkley, an opinionated sort who didn't mind sharing his feelings with anyone and everyone.

These opinions usually clashed with those of Arnie's wife Agnes and their children Terri, Chester, and Roger. Like their prime time contemporaries, The Barkleys touched on such issues as women liberation, topics that had rarely been broached in prime time, let alone Saturday mornings.
DePatie-Freleng Ent
Rate This Cartoon Series:
The Barkleys TV Episode Guide :
1 1 1 1 1 1 1 1 1 1 1 1 1