Bee Train Studio Directory -Alternate: B-Train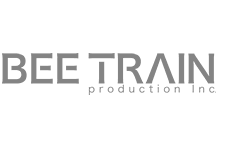 Alternate Studio Title: B-Train
Koichi Mashimo and Mashimo Jimusho founded Bee Train Productions in June 1997 as a subsidiary of Production I.G. Koichi Mashimo's goal when he founded Bee Train was to create a "hospital for animators", an animation studio interested in nurturing young talents and artistic quality of production rather than in corporate strategies and profit. This studio-as-hospital approach was allegedly invented by Mashimo during his prolonged stay in an intensive care unit (after a severe skiing accident) and has been Bee Train's official strategy ever since.
Bee Train
Rate This Studio:
BCDB Rating:
"Bee Train" has not yet received enough votes to be rated.
Bee Train Studio Directory Cartoon Series:
Now'ru (2001, 26 Episodes.)
Alternate Series Title: Nowaru Assassination Mission


Bee Train Studio :
Tsubasa: RESERVoir CHRoNiCLE (Series)
NHK, NHK Enterprises
featuring Syaoran, Sakura, Mokona, Kurogane, Fai.
Tsubasa: RESERVoir CHRoNiCLE (Series) There have not yet been any votes for "Tsubasa: RESERVoir CHRoNiCLE (Series)". Vote Now! 23