The Ruff and Reddy Show Episode Guide -Hanna-Barbera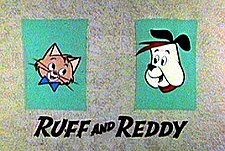 Ruff (the Cat) and Reddy (the Dog) was the first TV cartoon series marketed by William Hanna and Joseph Barbera and the newly formed H-B Enterprises (the future Hanna-Barbera) after MGM shut down its animation division. This was also the first hosted show consisting of new Saturday morning cartoons.
Hanna-Barbera
This page has been viewed 4 times this month, and 13,777 times total.
The Ruff and Reddy Show Segments:
The Ruff and Reddy Show TV Episode List :
The Ruff And Reddy Show (Series) H-B Enterprises.

featuring Ruff, Reddy, Professor Gizmo, Ubble Ubble, Salt, Captain Greedy

The Ruff And Reddy Show (Series) BCDB Rating: (4.3/5 stars from 8 users.)