Disney Studios Television Episode Guide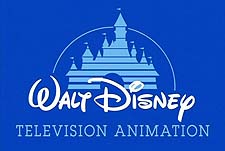 Excluding their feature films, Disney's current legacy is their TV shows. Disney's first foray into TV was The Gummi Bears. In a unique move for the time, the cartoon was based not on a comic strip, plush doll, or series of greeting cards, but rather a candy. The resulting show, however, bore little resemblance to candy maker Heide's chewy, fruity confection. Soon, Winnie the Pooh was added to the mix, and Disney saw a new distribution point for their animation.

Since then, the Disney TV output has been very prolific. Some shows are based on previous films or characters, but more and more are original scenarios.
Disney Studios
This page has been viewed 91 times this month, and 97,017 times total.
Television Episode Guide Cartoon Series: