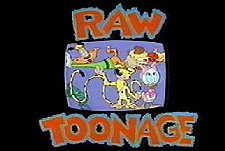 A half-hour show with three main segments.
Marsupilami
was based on a Belgian comic strip.
He's Bonkers
was actually a "side" series of shorts produced almost concurrently with the sydicated series
. These twelve shorts were supposed to be some of the shorts Bonkers made at Wackytoons Studios before he was fired; they were prologue to the full series. The final segment,
Totally Tasteless Videos
, were satires of currewnt TV shows or music videos.
Most shows had an additinal host segment in which an existing Disney cartoon character would impart invaluable advise to the viewing audience. The shows that lacked this sequence usually had an addional episode of
Marsupilami
in it's place.
The series ran twelve episodes, with a thriteenth planned and parially produced.
Raw Toonage Show Segments:
Raw Toonage TV Episode List :