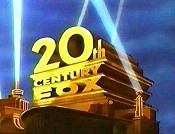 Alternate Studio Title: Twentieth Century Fox Film Corporation
20th Century Fox history stretch back to 1915, when William Fox combined Box Office Attractions company with his distribution arm called Greater New York Film Rental (Box Office Attractions was one of the distributor of Winsor McCay's
Gertie the Dinosaur
in 1914) to form Fox Film Corporation. Headquartered in Fort Lee, New Jersey, the company made the move to California in 1926 with the purchase of 300 acres in Beverly Hills for "Movietone City," the best-equipped studio of its time. In less than three years and due to the stock market crash of 1929, William Fox was overextended and close to bankruptcy. Fox was stripped of his empire and ended up in jail. Fox Film, with more than 500 theatres, was placed in receivership.
20th Century Fox is based in
Los Angeles, California
.
20th Century Fox Studio Directories Cartoon Series: