Cool McCool Episode Guides -King Features Synd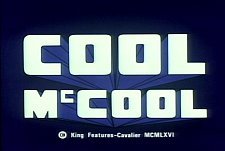 Batman creator Bob Kane was the man behind this spy spoof/comedic adventure. This series featured the animated exploits of Cool McCool, a gadget-wielding, trenchcoat-clad, 007-type who fought against an array of bizarre villains. Also in the show was Pop the Cop, the exploits of Cools' father and his Keystone Kops-like cronies.
Cool McCool TV Episode Guide :
Cool McCool

- 1966
King Features Syndicate, Cavalier featuring Cool McCool, Harry McCool, Number One, Friday, Jack-in-the-Box, Madcap, Rattler, Hurricane Harry, Owl, Riggs; more Characters ...