Scooby's All-Stars Episode Guide -Hanna-Barbera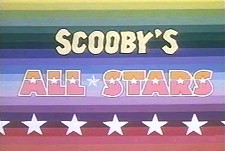 Scooby's All-Stars was the name of a 90-minute block of cartoons that combined the second season of Captain Caveman and the Teen Angels, Scooby's All-Stars (which was the second season of Scooby's All-Star Laff-A-Lympics) and brand new episodes of The Scooby-Doo Show. These new episodes were meant to follow the exact same format of the original 1969 series- the same characters, storylines and animation style were used.
Hanna-Barbera
This page has been viewed 3 times this month, and 4,934 times total.
Scooby's All-Stars Show Segments:
Scooby's All-Stars TV Episode List :
Scooby's All-Stars (Series) Hanna-Barbera Studios

featuring Scooby-Doo, Freddy, Daphne, Shaggy, Velma, Captain Caveman, Dee Dee, Brenda, Taffy, Cave Bird

Scooby's All-Stars (Series) BCDB Rating: (5/5 stars from 2 users.)
1