The Quick Draw McGraw Show Episode Guide -Hanna-Barbera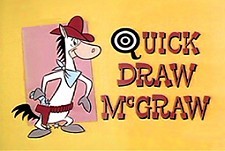 Quick Draw McGraw was created in response to the overwhelming success of
The Huckleberry Hound Show
a year earlier. In order to appeal to a wide variety of ages, the creators decided to use the show as a means to spoof a variety of genres that were on television at the time.
The main character was a takeoff on the tried and true lawmen who inhabited popular Westerns. Acting as sheriff of a generic Old West town, gun-toting horse Quick Draw McGraw would catch the bad guys, all the while trying to uphold the various codes of behavior in the Wild West. His sidekick, Baba Looey, was a small burro who, luckily, had more common sense than his boss and often lent a hand in apprehending the criminals.
Show contained episodes of "
Quick Draw McGraw
," "
Augie Doggie and Daddy Doggie
" and "
Snooper and Blabber
."
Hanna-Barbera
This page has been viewed 4 times this month, and 41,963 times total.
The Quick Draw McGraw Show Segments:
The Quick Draw McGraw Show TV Episode List :
The Quick Draw McGraw Show (Series) Hanna-Barbera Studios

featuring Quick Draw McGraw, Baba Looey, Snooper, Blabber, Augie Doggie, Doggie Daddy

The Quick Draw McGraw Show (Series) BCDB Rating: (4/5 stars from 4 users.)