The Scooby and Scrappy-Doo / Puppy's New Adventure Hour Episode Guide -Hanna-Barbera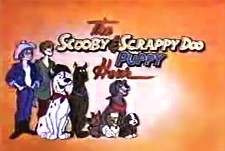 This series consisted of 7-minute shorts. The first two shorts followed the escapades of Scooby, Shaggy and Scrappy. However, there is no sign of mystery in these episodes. In every episode, this threesome would somehow end up in a chaotic, yet comedic situation. The third 7-minute short featured Scrappy, Yabba-Doo and Deputy Dusty. In this segment, Scrappy teams up with his cousin Yabba-Doo so they can help Deputy Dusty maintain law and order in a very small western town in the middle of nowhere.
Hanna-Barbera
This page has been viewed 133 times this month, and 7,291 times total.
The Scooby and Scrappy-Doo / Puppy's New Adventure Hour Show Segments: