Space Ghost and Dino Boy Episode Guides -Hanna-Barbera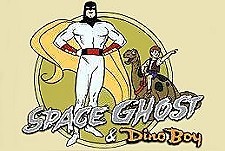 In the cartoon industry, Space Ghost is almost single-handedly responsible for the popularity of superhero cartoons in the 60's. The series was drawn so well and the stories were so imaginative that kids were glued to CBS every Saturday morning. This success forced the other networks to develop superhero shows like Superman in order to battle the mighty Space Ghost.
This page has been viewed 176 times this month, and 16,962 times total.
Space Ghost and Dino Boy TV Episode List :
Space Ghost and Dino Boy (Series)

- 1966
Hanna-Barbera Studios featuring Dino Boy, Ugh, Bronty, Space Ghost, Jan, Jayce

Space Ghost and Dino Boy (Series) There have not yet been any votes for "Space Ghost and Dino Boy (Series)". Vote Now! 21