Bienvenue Chez les Ronk! -English: Welcome to the Ronks!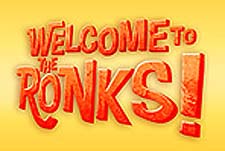 English Series Title: Welcome to the Ronks!
The year is 37,520 BC. Here on Earth, the Neanderthals live in synch with nature and seem quite happy with their archaic lifestyle. But in the rest of the galaxy, evolution has been speeding along at 100,000 light years a second! In order to bring the "earthlings" up to date, Flash, a refined alien, is sent to the Ronk's tribe in order to give humanity an atomic boost into the future! Unfortunately for him, Darwin's forefathers don't seem quite ready for (r)evolution!
Xilam Animation
Bienvenue Chez les Ronk! :
(Welcome To The Ronks!)

-

2013 Xilam Animation

featuring Flash

Bienvenue Chez les Ronk! (Series) There have not yet been any votes for "Bienvenue Chez les Ronk! (Series)". Vote Now! 21