Williams Street Studio Directories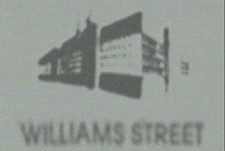 Williams Streets' original name was
Ghost Planet Industries
from 1994 to 1998. The Atlanta-based animation house
Williams Street Productions
is a production division of
Cartoon Network
, which is owned by
Turner Broadcasting
, and, ultimately,
Time Warner
. The studio produces in-house animated series generally geared towards older teens to adults, which air on
Cartoon Network
. Cartoon Network's Adult Swim segments are produced by Williams Street.
Williams Street Studio :
Death Fighter
- 2012
Williams Street
featuring Frylock, Meatwad, Master Shake.
Death Fighter There have not yet been any votes for "Death Fighter". Vote Now! 23