Courageous Cat and Minute Mouse Episode Guide -Trans-Artists Prods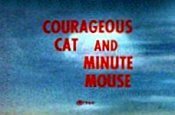 Courageous Cat and Minute Mouse fight crime and do occasional volunteer work in Empire City. Courageous Cat is based in the Cat Cave, and receives his orders from the Police Chief of Empire City, who also happened to be a dog. The crime-fighting duo traveled around in the Catmobile and carried around a multi-purpose Catgun.

An obvious parody of Batman, this series was also created by the creator of Batman, Bob Kane in 1939. Because to the popularity of the Batman live-action TV series, Courageous Cat won a revival of sorts in 1966.
Courageous Cat and Minute Mouse TV Episode Guide :