Tennessee Tuxedo and His Tales Episode Guide -Total Television Prods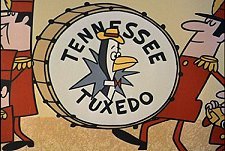 Tennessee, a wise-cracking penguin, and his dim-witted pal, Chumley, resided in the Megalopolis Zoo. They were constantly scheming against zookeeper Stanley Livingston and his assistant Flunky, in an attempt to raise the quality of zoo-life. Once Tennessee had his plan in mind, he was single-minded in his pursuit, exclaiming "Tennessee Tuxedo will not fail!" Once their projects failed- and they always failed- they would consult their educated friend, Phineas J. Whoopie, and his 3-D BB (a three dimensional blackboard). The 3-D BB helped demonstrate basic scientific principles through the use of instructional film clips.
Total Television Prods
This page has been viewed 49 times this month, and 8,761 times total.
Tennessee Tuxedo and His Tales Show Segments:
Tennessee Tuxedo and His Tales TV Episode List :
-

1963 Total Television Productions...

featuring Tennessee Tuxedo, Chumley, Stanley Livingston, Flunky, Phineas J. Whoopie, Yak, Baldy, Jeroba Jump; more Characters ...

Tennessee Tuxedo And His Tales BCDB Rating: (3.3/5 stars from 4 users.)