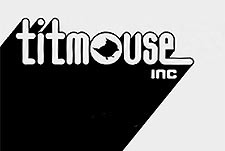 Titmouse began in New York City as a T-shirt company in the year 2000 when Chris Prynoski decided he wanted to make a T-shirt company. There are now multiple studios in Hollywood and NYC. Some say it was a combination of hard work, talent, and hustle; others attribute the success of Titmouse to a chance encounter with a homeless wizard on Venice Beach to whom Chris P. gave a sandwich. Some think Bigfoot gifted Chris and Shannon sacred space crystals that gave them ultimate powers over lines and color. A large part of the studio's success could be linked to the fact that Titmouse currently employs over 200 of the most talented artists, writers, directors, editors, and producers in the animation industry. Or it could be that lots of people like to watch the cartoons made by the studio, but it's most likely due to the space crystals.
Titmouse Studio Directories Cartoon Series:
Turbo: F.A.S.T.

(2013-, 1 Episode.)
Alternate Series Title:

Turbo: Fast Action Stunt Team




Related Cartoon Series:
Titmouse Studio :
'Tallica Parking Lot - 2013
Titmouse featuring Beavis, Butthead, Lemmy, Cartman, Kenny, Dave Mustaine, Cliff Burton.

'Tallica Parking Lot". Vote Now! There have not yet been any votes for "