Super Gals Kotobuki Ran Episode Guide -Studio Pierrot -Alternate: Sūpā Gyaruzu! Kotobuki Ran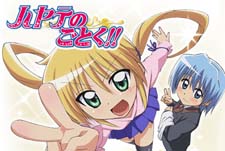 Alternate Series Title: Sūpā Gyaruzu! Kotobuki Ran
A hilarious and touching tale of teenage girls living in a big city.

Shibuya is a "trendy" and busy district in downtown Tokyo. It is a popular gathering spot for teenagers. Many cute girls called "Ko-Gals" (Adorable little teenage girls) meet here to chat, plan a shopping spree, watch the boys, and just spend time together after school.

The most talked-about and respected group of girls are known as "The Super Gals." Its leader is Ran, the daughter of a policeman, who is darling and also daring. She is extremely charismatic, and it's easy for her to bring several teenage girls together under her leadership. She is always high-spirited and physically strong, too. Each of the "gals" in the group has her own distinctive personality and outstanding charms. They are often rivals for the attention of a handsome boy, but if anyone in the group is in trouble, they all rally to her aid.

Our pretty gals are flourishing youths full of dreams of excitement and handsome boyfriends. However, as is true in real life, unexpected mishaps and embarrassing incidents often disturb their romantic imaginations.

Life in downtown Shibuya is never boring. Not a day goes by without some kind of excitement. There are always stories to tell as the Gals chat about fashion, boyfriends, quarrels, campus life, movies and so on. How thrilling to discover new friends, nice-looking boys, first loves, bargain sales, etc. The Super Gals are rich in life's most precious possessions: kindness, friendship, love and trust.
Studio Pierrot
Rate This Anime Series:
BCDB Rating: "Super Gals Kotobuki Ran" has not yet received enough votes to be rated.
This Series has been viewed 3 times this month, and 441 times total.
Super Gals Kotobuki Ran Anime Series Guide :
1 1 1 1 1 1 1 1 1 1 1 1 1 1 1 1 1 1 1 1