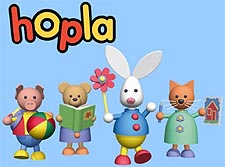 Created by the Belgian illustrator Bert Smets, this series is a 3D CGI animation filled with sound and musical effects. The funny music and colourful images go hand in hand and form a perfect unity. Hopla stimulates children's natural curiosity by playing memory games and guessing games, repeating objects, counting, playing recognition games with colours and shapes and by creating landscapes that are similor to the actual world.
Hopla :
Hopla (Series)

-

1999


Bert Smets Productions

featuring Hopla, Onki, Nina, Lola.

There have not yet been any votes for "Hopla (Series)". Vote Now!