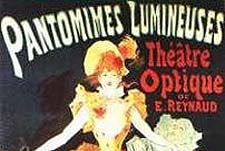 A series of animated image loops first shown in October 1892 when Charles-Émile Reynaud opened his Théâtre Optique at the Musée Grévin. Generally considered to be the first animated projections ever made.
Pantomimes Lumineuses Studio :
Un Bon Bock

(

A Good Beer

) -

1892


Charles-Émile Reynaud

There have not yet been any votes for "Un Bon Bock". Vote Now!