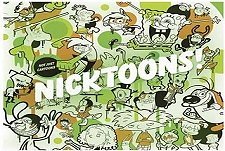 Nickelodeon's original animated television series are typically credited as produced at NickToons. Started up in 1991, Nicktoons produces a substantial portion of Nickelodeon's animated shows. Since the late 2000's, NickToons has made a strong move toward three-dimensional computer animation from their earlier traditional or digital two-dimensional ink and paint productions.
Nicktoons Productions Studio Directories Cartoon Series:
Monsuno

(2012, 2 Episodes.)
Alternate Series Title:

Monsuno: World Master




Related Cartoon Series:
Nicktoons Productions Studio :
The Wizzard of Krudd - (Production Cancelled- 2007)
Nicktoons Productions
featuring Gordo, Butterbeard, Rotten the Minus, Kunkle.

There have not yet been any votes for "The Wizzard of Krudd". Vote Now!