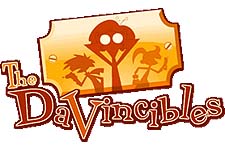 The DaVincibles follows the comedic exploits of the modern-day DaVinci family as they explore the world for rare artifacts to sell at Uncle Leo's Kurios Kat antique shop. Along the way, they cross paths with the world's most devious, yet questionably competent super villains known as The Society of Very Bad Villains (or SVBV for short).
The DaVincibles :
The DaVincibles (Series)

-

2011


Neo Network, RAI Fiction, Moonscoop, SLR Productions, Big Animation... featuring Pablo DaVinci, Zoe DaVinci, Uncle Leo DaVinci, Quba, Cherie, Choochie, The Tenors (Aka, Pella); more Characters ...

There have not yet been any votes for "The DaVincibles (Series)". Vote Now!