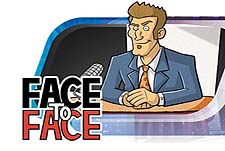 Here`s an all animated talk show where host Johnny has everyone talking. He gets celebrity after celebrity to spill the beans on themselves. He also meets experts, politicians, athletes, you name it. If it's making news, Johnny's on the story with an interview lined up. Of course all of the celebrities are caricatured. That's what makes it so funny! So, joinin for a daily dose and watch Johnny shoot off questions that even the most inquisitive of journalists wouldn't dare to ask. And guess who's answering? None other than Madonna, the Pope, even Obama, and more. No one says no to Johnny! Catch Johnny on the web, on mobile and on TV, and cast your vote on which sketch is best.
Face To Face :
Face To Face (Series)

-

(Date Not Set)


Kiwi Animations

featuring Johnny.

There have not yet been any votes for "Face To Face (Series)". Vote Now!