The Adventures of Spunky and Tadpole Episode Guide -Beverly Hills Prods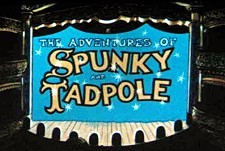 The series, which first appeared in syndication on September 6, 1958, appeared in the form of a serial, with one story running over 10 episodes. A total of 150 episodes were made, comprising 15 stories.

Usually, Spunky and Tadpole would be broadcast on locally-hosted children's shows.

The character of Tadpole was first voiced by Don Messick, then by Ed Janis in later episodes.

Simple animation meant that characters usually remained stationery, seldom moving when the spoke to each other.

Barnet Films was the owner of the program.

The show's first syndicator, Guild Films, distributed theatrical Looney Tunes to TV. The syndicator arranged for Spunky and Tadpole to appear in several major markets, telling stations that the show would draw interest from grownups and children alike.

However, such successful syndicated programs as Huckleberry Hound caused Spunky and Tadpole to vanish. A late-1950s merger spelled the end of Guild, and the cartoon languished among several minor distributors, including (in 1958) Ziv Films.

Spunky and Tadpole continued to be seen until the mid-1960s, offered cheaply to smaller stations in smaller markets.
The Adventures of Spunky and Tadpole TV Episode Guide :