Super Friends- The Legendary Super Powers Show Episode Guide -Hanna-Barbera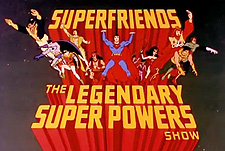 In September 1984, in a tie-in with the Kenner Toys Super Powers line of toys and comics (based on DC Comics heroes), Hanna-Barbera created the SuperFriends: The Legendary Super Powers Show. The comics hero Firestorm joined the team (Superman, Wonder Woman, Batman, Robin, Green Lantern, the Wonder Twins, Apache Chief, Black Vulcan, Samurai, and El Dorado) in fighting the evil Darkseid and other villains.

This season of Super Friends is made up of two new eleven-minute episodes which make up the 30-minute show. The show also saw the return of Adam West as Batman.
Super Friends- The Legendary Super Powers Show TV Episode Guide :
1
1
1
1
1
1
1
1
1
1
1
1
1
1
1
1