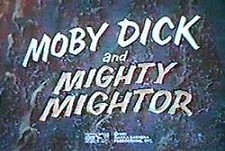 Unlike his literary namesake, this great white whale was a gentle friend. While he was definitely whale-sized, he was basically the pet of human boys Tom and Tub, who had been orphaned after an underwater earthquake tragically killed their families. The second segment of the show, The Mighty Mightor, took place in prehistoric times. Tor, a teenaged caveman, acquired a magic club from an old hermit whom he and Tog, his pet, had rescued from a dinosaur. When Tor raised the club in the air and shouted, "Mightor!," he was transformed into The Mighty Mightor, a Jurassic superhero, while Tog became a fire-breathing dragon.
Moby Dick and Mighty Mightor Show Segments:
Moby Dick and Mighty Mightor TV Episode List :
Moby Dick And Mighty Mightor

-

1967


Hanna-Barbera Studios

featuring Tom, Tubb, Scooby, Mighty Mightor, Tor, Sheera, Chief Pondo, Ork, Tog, Lil' Rock.

There have not yet been any votes for "Moby Dick And Mighty Mightor". Vote Now!