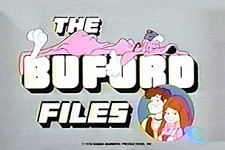 Taking place in Pendike County, Buford featured teens Cindy Mae and Woody doing what all red-blooded American teenagers did in the 70's: solve mysteries! Assisting Cindy Mae and Woody was their bloodhound Buford, whose nose turned red when he found a clue. Buford was a very lazy dog, and that, coupled with the bumbling police work of Sheriff Dupres and Deputy Goofer, forced the intrepid teens to work even harder to crack cases.
Related Cartoon Series:
The Buford Files :
The Buford Files - 1979
Hanna-Barbera Studios featuring Buford Bloodhound.

The Buford Files". Vote Now! There have not yet been any votes for "