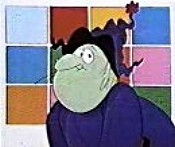 Broom Hilda is a 1,500-year-old witch who can't control her powers very well. Conversely, she is a relative newcomer to the comic strip universe, having debuted in 1970.
Related Cartoon Series:
Broom Hilda :
Broom Hilda - 1978
Filmation Associates featuring Broom Hilda, Gaylord, Irwin, Grelber.

Broom Hilda". Vote Now! There have not yet been any votes for "