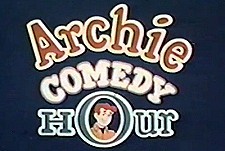 Archie's 1969-1970 season was the second on television for Archie and his friends. Their show held to the same formula as the year before, but due to its popularity had expanded to an hour-length format and changed its title to The Archie Comedy Hour.

The show continued to feature comic vignettes, psychedelic backgrounds, and pop music performed by The Archies (an actual band fronted by studio musician Ron Dante, with a number one hit, "Sugar, Sugar," in 1969). However, this season also introduced Sabrina the Teenage Witch to television audiences. A year later, Filmation placed Sabrina in her own series, which ran in one form or another for eight years.
Archie's Comedy Hour Show Segments:
Related Cartoon Series:
Archie's Comedy Hour TV Episode List :
Archie's Comedy Hour - 1969
Filmation Associates featuring Archie Andrews, Jughead Jones, Reginald (Reggie) Mantle III, Betty Cooper, Veronica Lodge, Hot Dog, Mr. Weatherbee; more Characters ...

Archie's Comedy Hour". Vote Now! There have not yet been any votes for "