Goof Troop Episode Guide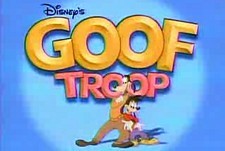 Disney's Goof Troop found the world's silliest talking dog all grown up and rearing a child. Goofy, scatterbrained as always, lived in Spoonerville, where he was raising his 11-year-old son Max. The two lived next door to the narrow-minded Pete, his loving wife Peggy, daughter Pistol, and son P.J., who as good friends with Max.

Created by Robert Taylor, the main series of 65 episodes ran in syndication from 1992 until 1993 on The Disney Afternoon, while an additional thirteen episodes ran on Saturday mornings on ABC. One Christmas special was also produced, which ran in syndication.
Disney Studios
Rate This Cartoon Series:
Goof Troop Episode Guide List:
1 1 1 1 1 1 1 1 2 1 1 1 1 1 2 1 1 1 1 1 2 1 1 1 1