Everything's Archie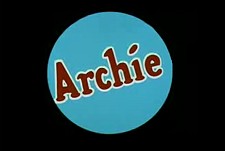 Archie and his friends had already enjoyed twenty-seven years of popularity in comic book form by the time they made it to Saturday morning television. The various Archies series (nine over the course of twenty years) mixed quick, Laugh-In inspired comic sketches with adventures and pop music.
Everything's Archie
was the title given to network reruns of the first two seasons of Archie,
The Archie Show
and
Archie Comedy Hour
. The two shows featured comic vignettes, psychedelic backgrounds, and pop music performed by The Archies (an actual band fronted by studio musician Ron Dante, with a number one hit, "Sugar, Sugar," in 1969). This half-hour incarnation lasted only four months before giving way to
The U.S. of Archie
the following season.
Filmation
Everything's Archie Cartoon Series:
Everything's Archie :
Everything's Archie (Series) Filmation Associates

featuring Archie Andrews, Jughead Jones, Reginald (Reggie) Mantle III, Betty Cooper, Veronica Lodge, Hot Dog, Mr. Weatherbee; more Characters ...

Everything's Archie (Series) BCDB Rating: (2.5/5 stars from 2 users.)