Search The Big Cartoon DataBase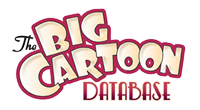 How To Search BCDB
---
Sorry, Our DataBase Currently Has No Matching Cartoons or Series...
We have returned you to our Detailed Search page, so you can search more specifically, if you like.
If you still cannot find this cartoon you could add this cartoon... You can search individual fields of our database, to find the specific information you are looking for.

Want to find all the cartoons directed by
Chuck Jones
? Enter his name under director and hit search! You can also cross-reference your
search here
- if you want to find all the cartoons Chuck Jones directed and Michael Maltese wrote...
Please
Link Here
for help with Search.
Search Cartoon Characters: