Batman TV Series (Warner Bros.)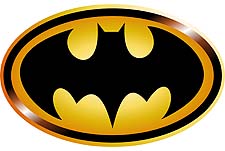 When Warner Bros. released Batman: The Animated Series, they did more to push ahead the art of animation than they possibly knew. The show hit audiences with a new, dark, serious approach to Batman they hadn't seen before. For the first time, an animated television show was really meant for something more than young children- it was serious. Well-written stories coupled with animation that was a step above the normal Saturday morning fare, the series featured a realism which brought the dirty, gritty world of Gotham City to life. Batman was represented to millions of kids not as a comic hero, but rather as a real and serious crime-fighting detective that inspires fear in his villains.
Warner Bros.
This page has been viewed 96 times this month, and 20,064 times total.
Batman TV Series (Warner Bros.)
The Batman

(2004 – 2007, 60 Episodes.)
Alternate Series Title: The Batman
Batman TV Series (Warner Bros.) List:
Batman: Strange Days Cartoon Network

featuring Batman, Dr. Hugo Strange, Giant, Woman

Batman: Strange Days There have not yet been any votes for "Batman: Strange Days". Vote Now! 21