Superman Theatrical Series -Fleischer Studios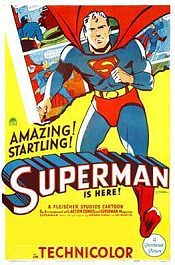 The Fleischers' last- and most- expensive series. At first the brothers did not want to do this series. When the studio forced them to do it, they quoted Paramount back an outrageous budget of nearly $100,000 per short to produce it. This was about six times the normal budget for a typical short of the period. Paramount agreed to half the inflated budget, and so production began.
Eight Superman shorts were produced by Fleischer Studios before the studio was shut down by Paramount in early 1942. Production of the final nine Superman shorts at the follow-up
Famous Studios
later in 1942.
Fleischer Studios
Rate This Theatrical Series:
Superman Theatrical Cartoon Series Cartoon Series:
Superman

(1942 – 1943, 8 Theatrical Cartoons.)
Superman Theatrical Cartoon List :