Fleischer Studios Feature Films Theatrical Cartoon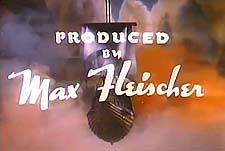 The only animation studio to take on Disney on Disney's turf, Fleischer was the second US studio to release a feature animated film. While
Gulliver's Travels
was well received critically, the film only did moderately well at the box office. The financial failure of their second feature film all but broke the studio, which was dissolved by the end of that year.
Fleischer Studios
This page has been viewed 3 times this month, and 7,996 times total.
Fleischer Studios Feature Films Theatrical Cartoon List :
Gulliver's Travels Fleischer Studios

featuring Gulliver, Gabby, Princess Glory, King Little, Prince David, King Bombo of Blefiscu, Sneak; more Characters ...
Mr. Bug Goes To Town Fleischer Studios

featuring Dick, Mary, Mr. Bumble, Swat the Fly, C. Bagley Beetle, Smack the Mosquito, Hoppity, Honey; more Characters ...

Mr. Bug Goes To Town BCDB Rating: (4.2/5 stars from 17 users.)