George of the Jungle Episode Guide -Jay Ward Prods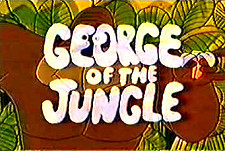 George was a dimwitted, clumsier version of Tarzan, who, despite the warning in the catchy opening theme to "watch out for that tree," would inevitably eat bark as he splatted into trunk after trunk. Sharing the half-hour was Super Chicken, a.k.a. Henry Cabot Henhouse III, an ordinary, run-of-the-coup millionaire fowl who became his alter-ego after downing some Super Sauce. With the help of his reluctant and cowardly lion pal, Fred, Super Chicken would fly around in his Supercoupe tracking down criminals. Rounding out the program was a third segment, Tom Slick. With his never-fail optimism, Tom would calmly tell his girlfriend, "There's no such word as failure in auto racing, Marigold."
Jay Ward Prods
This page has been viewed 3 times this month, and 7,111 times total.
George of the Jungle Show Segments:
George of the Jungle TV Episode List :
George of the Jungle (Series) Jay Ward Productions, Pantomime Pictures

featuring George, Ursula, Ape, Shep, Super Chicken/Henry Cabot Henhouse III, Fred, Tom Slick; more Characters ...

George of the Jungle (Series) There have not yet been any votes for "George of the Jungle (Series)". Vote Now! 21