Jay Ward Productions Directory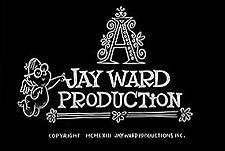 Pioneering animator Jay Ward was a realtor when he hit on the idea of producing cartoons for television in 1949.
Crusader Rabbit
was the first cartoon series produced exclusively for the new medium, and was an instant hit. From there, Jay Ward opened Jay Ward Productions to produce a variety of other classic cartoons such as
Rocky & Bullwinkle
,
Dudley Do-Right
,
Peabody's Improbable History
,
George of the Jungle
,
Tom Slick
and
Super Chicken
. His company, Jay Ward Productions, also designed the trademark characters for
Cap'n Crunch
,
Quisp and Quake
breakfast cereals and made
commercials
for those products, among others.
Jay Ward Prods
Jay Ward Productions Cartoon Series: