The Vitagraph Company of America Studio Directory -Alternate: American Vitagraph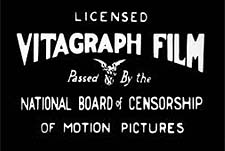 Alternate Studio Title: American Vitagraph
Founded by J. Stuart Blackton and Albert E. Smith in 1897 in Brooklyn, New York. While produciung mainly live-ation silent films, the studio was unique in that it also produced animated films, too. By 1907, American Vitagraph was the most prolific American film production company operating. By 1911, the studio was bi-coastal, opening a second studio in Santa Monica, California. The studio was purchased by Warner Bros. in 1925.

The Vitagraph name was briefly resurrected from 1960 to 1969 at the end of Warner Bros.' Looney Tunes cartoons (starting with 1960's Hopalong Casualty), with the end titles reading "A Warner Bros. Cartoon / A Vitagraph Release". Merrie Melodies of the same period (starting with that same year's From Hare to Heir) had the same end title, with the last line being "A Vitaphone Release". (From August 1968 to the end of the original series in 1969, Merrie Melodies had the last line reading "A Vitagraph Release" while Looney Tunes of that same one-year period read "A Vitaphone Release".) This may have been done to protect the studio's ownership of the two largely defunct trade names.
Vitagraph Co of America The Vitagraph Company of America was based in Brooklyn, New York.

The Vitagraph Company of America Studio Directory Cartoon Series:
Warner Bros.

(1930 –, 5160 Cartoons.)


Where would we be without the famous- and beloved- Warner Bros. characters? If for no other reason than Looney Tunes and Merrie Melodies animated series, this is a studio you can lose hours looking through. The studio has reinvented itself with modern animated television shows, and those TV Series Episode Guides are here to explore, too.
The Vitagraph Company of America Studio :