UFA Studio Directory -Alternate: Universum Film AG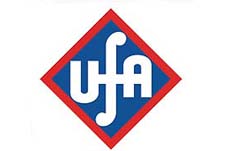 Alternate Studio Title: Universum Film AG
The principal film studio in Germany, home of the German film industry during the Weimar Republic and through World War II. After the end of the Second World War UFA ceased activity, and initially was so associated with the Third Reich that even reissues of its non-political product were possible only by removing all reference to the company from the credits. Furthermore, the UFA studios were located in the Soviet zone of Berlin and were incorporated subsequently into the German Democratic Republic (East Germany). The new studio, DEFA (Deutsche Film AG), carried on the UFA tradition with many directors returning from exile, while actors and technicians were recruited from the old company.
UFA UFA was based in Germany.

Rate This Studio:
BCDB Rating:
"UFA" has not yet received enough votes to be rated.
UFA Studio Directory Cartoon Series: