Sekai no Osha King Kong Daikai Episode Guide -T˘ei Company -English: The King Kong Show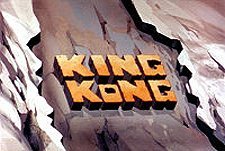 English Series Title: The King Kong Show
"
Sekai no Osha King Kong Daikai
" (also titled "
King Kong
" and "
King Kong Ruler of the World
" for US showings) was the first Japanese anime to be produced specifically for the American market. It was commissioned by Rankin-Bass from Videocraft, an American company, which, in turn, farmed out the work to Japan-based Toei.
There were twenty-six shows in the run of the series. The first twenty-four episodes of the show featured one Tom Thumb and two King Kong episodes in the half-hour. The final two shows featured longer King Kong episodes only.
Toei funded part of the series itself, and did also show this series in Japan. However, designs, scripts, storyboards and voice track were supplied ready-made from the United States.
T˘ei Company
Rate This Anime Series:
BCDB Rating:
"Sekai no Osha King Kong Daikai" has not yet received enough votes to be rated.
Sekai no Osha King Kong Daikai Episode Guide Anime Series:
King Kong

(1966, 50 Episodes.)
Alternate Series Title: King Kong Ruler of the World
Sekai no Osha King Kong Daikai Anime Series Guide :
1 1 1 1 1 1 1 1 1 1 1 1 1 1 1 1 1 1 1 1 1 1 1 1 1