Uchu Densetsu Ulysses 31 Episode Guide -TMS Ent -English: Space Legend Ulysses 31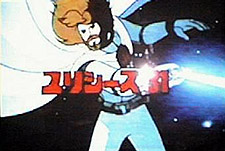 English Series Title: Space Legend Ulysses 31
Greek epic met space epic in Ulysses 31, a French/Japanese animated retelling of Homerís The Odyssey. Set in the 31st century, the cartoon replaced sailing craft with spaceships and memories with computer banks, but much remained the same.
TMS Ent
Rate This Anime Series:
BCDB Rating:
"Uchu Densetsu Ulysses 31" has not yet received enough votes to be rated.
Uchu Densetsu Ulysses 31 Episode Guide Anime Series:
Ulysses 31

(1986, 26 Episodes.)
Alternate Series Title: Space Legend Ulysses 31
Uchu Densetsu Ulysses 31 Anime Series Guide :
1 1 1 1 1 1 1 1 1 1 1 1 1 1 1 1 1 1 1 1 1 1 1 1 1