Norakuro Kun Episode Guide -Studio Pierrot -English: Little Norakuro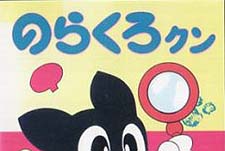 English Series Title: Little Norakuro
This series of fifty shows was a sequel to Eiken's
Norakuro
.
In Suganami, Tokyo, there lives the Kinoshita family whereby the father draws very little pay out of his job as an ordinary salaryman. In order to cover expenses, he decides to let out the second floor of their apartment to earn additional rental income. One day, an obstinate-looking eldery dog, accompanied by a younger boy-dog, came knocking on their doors. The eldery dog addresses himself as Norayama Kuroyoshi and introduces his grandson as Norakuro.
Studio Pierrot
Rate This Anime Series:
BCDB Rating:
"Norakuro Kun" has not yet received enough votes to be rated.
Norakuro Kun Episode Guide Anime Series:
Norakuro

(1970, 1 Series.)
Alternate Series Title: Private Norakuro
Norakuro Kun Anime Series Guide :
1 1 1 1 1 1 1 1 1 1 1 1 1 1 1 1 1 1 1 1 1 1 1 1 1